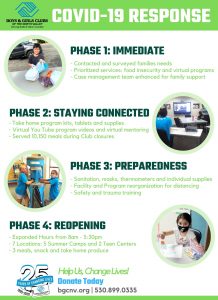 The California Governor's office and state health officials are encouraging the public to take proactive steps to prevent the Coronavirus (COVID-19) from spreading. In consideration the Boys & Girls Clubs of the North Valley is committed to the safety and health of our youth members, staff and community, and will be following all safety protocols and mandates put forth by Butte County Public Health, the CDC and various youth development guidelines.
As you know the health and well-being of our youth members, staff and community is our number one core value and priority.  From the start we've implemented an active screening process before anyone enters the building.  This includes: general wellness questions, a temperature check, putting on a face mask, and washing and sanitizing everyone's hands.  We have separate groups of kids in rooms with dedicated staff, and have kept our membership numbers and ratios much lower than usual to ensure social distancing can be met in all areas of the Club.  By increasing the number of hand washing stations and sanitation stations around the Club, members and staff wash and sanitize their hands during regularly scheduled times as well as throughout the program day.  We also clean and disinfect the facility in-between activities and after meal times and have a professional third party sanitation company come weekly to disinfect our facilities.  We will continue to practice the safety measures above and meet or exceed the guidelines and mandates put forth by CA & Butte County Public Health and the CDC.
If you have had any recent changes to your contact information, please call the BGCNV main office at (530) 899-0335. Families can also check our Facebook page and the linked resources below for the most current information and resources:
Youth Online Activities Resources:
Check your email to view Club You Tube Videos
Club Chore Chart for Club Bucks
Fun and Creative Online Activities for Kids
Health Resources:
Butte County Public Health
California Department of Public Health (CDPH)
The Center for Disease Control and Prevention (CDC)
Butte County residents call also call 2-1-1 or text your zip code to 898211 for COVID-19 information and updates.
For the most up to date Club services follow us on our Facebook page.