Dear Friends,
The Boys & Girls Clubs of the North Valley is pleased to share our 2018 Annual Report with you. Your investment in our work has ensured that our Clubs are, and will continue to be, a safe place for more than 2,000 local youth.
2018 was a pivotal year for our organization and community. In November, the Camp Fire devastated the Town of Paradise and neighboring Ridge communities. Three of our Club sites were destroyed, and more than 500 Club members, 22 staff and 11 Board Members were displaced by the fire. Thanks to your support, we were able to immediately respond to our families' needs. We will continue to rebuild our programs and services, and are committed to the long-term healing of our community.
As we face so many unknowns and the future together, your gifts allow us to remain focused on putting kids first and addressing their ever-changing needs as they arise. Thanks to your continued support, we are able replace and rebuild our programs and services to do whatever it takes to invest in the safety and protection of the youth we serve.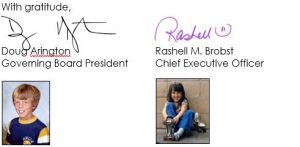 P.S. Please come by and have our youth give you a tour to see the magic that happens every day at the Boys & Girls Clubs of the North Valley!